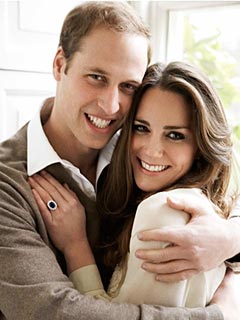 As soon as Prince William and Kate Middleton announced their wedding date right around Thanksgiving weekend, my husband and I made plans to be in London for the royal "I do's." Having written four books on royal romances, relationships, and scandals thus far*, with a fourth under contract (and which will have a chapter on William and Kate's romance), it was a dream to be able to soak up the atmosphere and pageantry of the grand event.
We lucked out on renting an apartment. Not only will we be right around the corner from Buckingham Palace, abutting the royal mews,
but we are also a stone's throw from the elegant Goring Hotel where Kate Middleton will be joining her family, spending her final night as singleton and as a commoner.

The past few weeks have been a whirlwind for me, giving numerous interviews to radio and television stations across the U.S. about the royal wedding plans, William and Kate's relationship, and about past royal weddings and marriages. It's a dream job, and the cherry on the sundae is that I will be appearing on national television from London as a guest expert on CBS nightly news, interviewed by the lovely Michelle Miller. Air date is likely Monday, April 25.
It's been thirty years since the last major royal wedding -- that of William's parents, then thirty-two-year-old Prince Charles and Lady Diana Spencer, barely twenty. Theirs was really an arranged marriage as most royal unio
ns throughout history were, and bore all the hallmarks of one, starting with the fact that the groom was still in love with his longtime inamorata, Camilla Parker Bowles. As the Waleses' marriage became rocky and Diana would become unfaithful as well, she publicly lamented on broadcast television, "There were three of us in this marriage, so it was a bit crowded." She and Charles were divorced in 1996, and one year later, she was tragically killed in an automobile accident in Paris.
The marriage of her oldest son, a young man whom she described when he was just a little boy as being an old soul and so much like herself, to a lovely woman of his own choosing, a woman who is his own age, his former college classmate, housemate, and for all we know, his soulmate as well, brings a sense of closure to the wounds the world felt at Diana's passing, leaving behind a teenage son (and his younger brother Prince Harry of course),
whose one-word bereavement card that read "Mummy," placed atop her lily-bedecked coffin told you all you needed to know about the depth of feeling William had for his mother.
A deeply romantic and keenly sensitive young man, one reason he waited so long to propose to Kate was that he wanted to ease her into the family and try as much as he could to make sure that she would not become a victim of the media frenzy that he felt had murdered his mother; that she understood what sort of a lifelong lifestyle commitment she would be making; their marriage would not be just the two of them, and perhaps a few kids, like other couples. Giving Kate Diana's 18-carat sapphire and diamond engagement ring was another way of including his mother in the celebration. At first I wondered about his judgment; after all, Diana had a miserable marriage -- mightn't the ring be bad luck? But Diana chose that ring herself (and took a lot of flak for it initially, from the Windsors). So, good on William (and Diana)!
I've been telling all these broadcast journalists that Kate and William's story is not a Cinderella story, as some of the press would like to spin it. For one thing, Cinderella went from rags to riches. Kate, although she is a commoner (as was Diana; a commoner is anyone not of royal blood -- although Kate was born into the middle class and Diana was the daughter of an earl). Kate is going from riches to royalty, thanks to an entrepreneurial mother and a father who was game enough and wise enough to stand beside his spouse and support her goal to build a mail order party planning business after the pair of them enjoyed careers in aviation.
I have a soft spot in my heart for Carole Middleton. For starters, we share a maiden name: Goldsmith. I applaud her enterprising spirit, her talent, and her ambition, even if she does have a bit of Jane Austen's Mrs. Bennet (Pride and Prejudice) in her. And besides, just as Mr. Bingley genuinely fell in love with Jane Bennet after her mother sent her over to Netherfield in the rain, William genuinely fell in love with Catherine Elizabeth Middleton after her mother encouraged her to enroll at St. Andrew's (rather than the University of Edinburgh, which had a better History of Art program), because the prince was going to St. Andrews.
Kate had been a fan of William throughout her girlhood. And her grades from the posh Marlborough College (a private high school) were good enough to permit her to enroll anywhere. So why begrudge her the opportunity to befriend England's heir presumptive? Kate in fact makes history as the first college-educated future Queen of England.

Another reason William and Kate's romance isn't a fairy tale is that it's all too real and relatable. In fairy tales the handsome prince and beautiful princess barely know each other before they get married and; so the story ends, "live happily ever after." In Sleeping Beauty and Snow White, the poor girl receives a kiss while she's non compos mentis and that passes for courtship. Even poor Diana got more than that. But Kate and William's relationship developed organically over time and weathered two breakups with the eyes of the world upon them as well as tremendous pressure to wed on the media's timetable rather than their own. They met nearly a decade ago and have been a couple since 2002, living together while they were in college. Kate is practically a decade older than Diana was when she married Charles and has more maturity and life experience. She's also had several years, rather than a few dates (and always within a crowd), to get to know her prince.
And William is not Charles. He is an atypical Windsor, more "warm and fuzzy," like his mother was. Against Charles's wishes, Diana insisted that their sons go to school with other children from their earliest years and that they always be keenly aware of the less advantaged. This lesson has paid off. William is a mensch.
Here's the link to my interview with Michelle Miller that aired on CBS Nightly News with Katie Couric on Monday, April 25. The text is a mashup of what was voiceover narration and actual interview quotes, but I believe you can click to play the video of the footage that actually aired.
Here's a link (I think). The text takes what was narrated in voiceover, plus what was actually said in the interview, but I believe you can click to play the video footage of what actually ran on air tonight. http://www.cbsnews.com/stories/2011/04/25/eveningnews/main20057243.shtml?tag=broadcast
So, what about you? Are you looking forward to the royal wedding on April 29, 2011 and will you be watching it? Did you watch Charles and Diana's wedding?
*for NAL,
ROYAL AFFAIRS
(2008),
NOTORIOUS ROYAL MARRIAGES
(2010), and
ROYAL
PAINS
(just published last month); and exclusive to Barnes & Noble,
THE ROYALS: The Lives and Loves of the British Monarchs
(a big, illustrated "coffee table" volume containing facsimiles of historical memorabila that you can take out of envelopes and peruse, due out this October, I believe. The last section is on William and Kate); and my wip,
ROYAL ROMANCES: Titillating Tales of Passion and Power in the Palaces of Europe
(also for NAL)